Ranger Creek Ranch
Knox County Hunting Leases

Knox County is located west of Seymour. It contains the towns of Benjamin, Knox City, Munday, and Vera. It is half way between the Fort Worth Dallas Metroplex and Lubbock, Texas.  The physical characteristics of Knox County consists of rough cedar break country with fresh water springs, cedar breaks, wheat and milo fields. The majority of our ranch lies between the Brazos River and the Wichita River and lays next to the Waggoner Ranch(over .5 million acres).  Knox County is very diversified and available game animals include Whitetail Deer, Aoudad, Ducks, Canadian geese, Feral Hogs, Javelina, Quail, Rio Grande Turkey and Dove.
   The Duck Club at Ranger Creek Ranch
  Ranger Creek Ranch offers a Duck Club lease in Baylor and Knox County.  The Duck Club lease allows lease holders to come and go as they please upon notification of the Lease Holders. The Duck Club at Ranger Creek Ranch is limited to a maximum of 10 members and is available during the regular duck season. The Duck Club lease is $2500.00 per person. Please call Ranger Creek Ranch at 940-888-2478 or email ranger@rangercreekranch.com for further details.
  Please scroll down to see the other Knox County Texas Hunting Leases that Ranger Creek Ranch.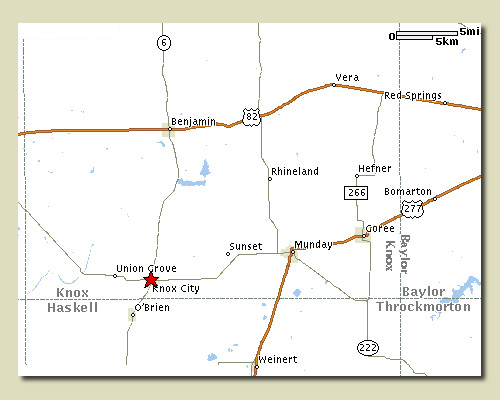 Knox County TX Hunting Leases

FOR THOSE THAT DON'T HAVE THE TIME TO MAINTAIN A LEASE but want to enjoy the outdoors and the actual hunt………
MINI HOG LEASE:  Ranch will provide corn in feeders, maintain spinners, blinds, fully furnished Ranch House with linens, outside BBQ grill.  Includes 5 – 4 hunt day trips, with 3 nights lodging, 2 lease holders w/guest. Included unlimited hogs.  $2150
Available
MINI DEER LEASE PACKAGE:  Ranch will provide corn in feeders, maintain spinners, blinds, fully furnishd Ranch House with linens, outside BBQ grill. Includes 2 trips each trip including a 3-day hunt, with 3 nights lodging.  Harvest may include: 1 mature buck, 1 cull buck, 2 whitetail does, unlimited hogs, and unlimited varmints. $3750
Available
Ranch Houses or RV Hookups are available for most leases

 

800 acres of prime trophy deer next to Waggoner Ranch.
Management minded hunters only. Wheat fields, heavy mesquite and cedar breaks. Deer-Turkey-Hogs

Leased

 

1800 acres rolling mesquite flats, and rough cedar breaks. Food plots planted. Feral hogs-Turkey-Aoudad-Dove-Varmints. Springs running through property.

 

Leased

 

160 Acres rolling mesquite pasture, some cedar break areas, wheat fields, live creeks. Management minded hunters only. Deer-Hog Deer season only.
Leased

320 acres rolling mesquite flats, and cedar breaks. Live springs running through property. Deer-Turkey-Hogs. Reserve Dove and Ducks.

Leased

480 acres of cedar break country with wheat fields, live creeks, and some tanks. Deer-Turkey-Hogs. Management minded hunters only.

Leased

1000 acres of prime trophy deer cedar break country next to Waggoner Ranch. Management unit only. Trophy Deer-Hogs-Turkey.

Available

640 Acres wheatfield, wildlife food plots, rough cedar breaks with live springs. Excellent Hog-Turkey-Dove-Deer-Varmints.

Leased

 

1700 acres of cedar break country with natural springs, and heavy brush next to Waggoner Ranch. Management unit only. Deer-Hogs-Turkey

Available

1600 acres with miles of Brazos River. Whitetail deer, feral hogs, quail, ducks, and Rio Grande Turkey.

200 acres on Brazos River. Whitetail deer, hogs, Turkeys     Available NEW LISTING                                                                                                                          

Leased