Deep in the rolling plains of West Texas is a place where memories are made. That place is Ranger Creek Ranch. The Main Lodge at Ranger Creek Ranch is located approximately 17 miles west of Seymour, Texas just west of the tiny community of Vera, Texas.  We are approximately 160 miles west of Fort Worth, Texas on highway 114/82.
Download Driving Directions from Seymour
The Historic Ranch is a place where people come to get away from their fast paced lives and settle down for a few days of relaxation, incredible meals and thrilling activities.  A true reflection of the History of the Lone Star State. Here at Ranger Creek Ranch, we offer all of the modern day lodging amenities while keeping the rustic charm and nostalgic feel of ranch life.
In order to extend the farming and ranching operation and as a means to introduce the public to this exquisite region of the state of Texas, Ranger Creek Ranch was diversified from the historic cattle ranch to share it with guests.
Ranger Creek Ranch's roots are as deep as the mesquite trees that grow upon it.   The family came in horse and buggy from Erath County and arrive in Knox County, Texas, December 10, 1900, which was the beginning of the ranching era.  Fences were built and some of the virgin land was broken by horse and plow into cropland.
In 1998, as a result of increasing demand, the family decided to renovate and rebuild a rustic old barn in Grand Texas Style!  Ranger Creek Ranch is happy to share this Rustic Lodge and the surrounding land with discriminating guests from all parts of  the world.
Ranger Creek Ranch is one of the most diversified ranches in Texas for adventures. Almost any outdoor activity is possible within the borders of the ranch.
Today and going forward, Ranger Creek Ranch offers the opportunity to share it's history.  Further, the Canyons, Clear water springs and Cedar Breaks have breathtaking scenic backgrounds for that are unique in every way to offer some of the best outdoor adventures in the nation.  Ranger Creek Ranch offers walking and riding trails through endless miles of scenic canyons, beautiful spring fed creeks, and acres of grass land. On these trails, our guests have the opportunity to see exquisite and elusive wildlife, incredible landscapes, beautiful foliage, and breath taking star filled nights.
This combination affords Ranger Creek Ranch guests unparalleled Adventures, a means for the "Great Escape" into the wilderness.  Perfect for those get a ways, ranch weddings, and photographers.
Our family invites you to join us. Come out, hunt, break a sweat and cool off in a spring fed pond, relax on the balcony watch the sun go down, breathe the fresh air and settle in to a slower paced life.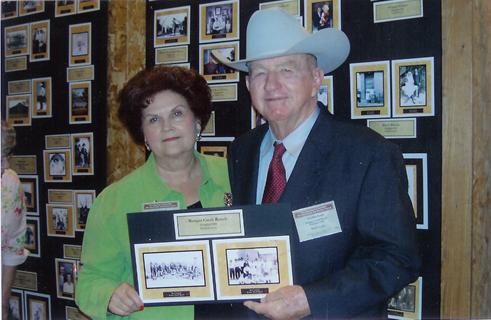 Gaylon and Joyce Scott accepting the Family Land Heritage Award in Austin, Texas. Gaylon's ancestors settled the land that is now known as "Ranger Creek Ranch" December 10, 1900, and has been in the same family for over 100 years.
The hog population seems to have exploded here in Knox County this past year. For the most part hog hunters have had ample opportunity and successful connections with their target. Remember, the hogs are smart therefore the thrill is to outsmart them and not make any...