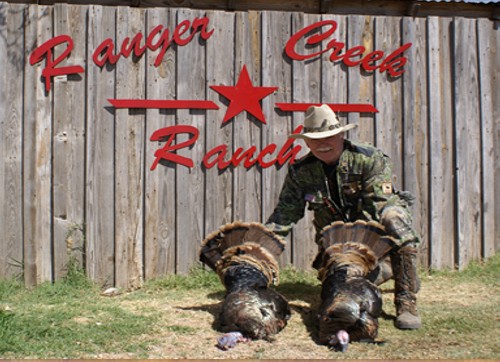 Ranger Creek Ranch
Wild Turkey Hunting

Spring Turkey Season 2020
Rio Grande Turkey:
Fall Season
North zone: November 7 -January 3 , 2021 
Archery-Only: October 3 – Nov. 6, 2020
Fall Youth-Only
Oct. 31 – Nov 1, 2020
Jan. 4 – 17, 2021
Spring Youth-Only
Mar. 27 – 28, 2021 and May 22 – 23, 2021
Spring Season
North zone:  April 3 – May 16, 2021
There are few things better than a spring Wild Turkey Hunt in the Rolling plains of West Texas. The feel of spring shedding off its cold winter coat, and wildflowers abounding in every field.
Did I mention the heart pounding action of two Rio Grande turkeys fighting for territory and mating rights?
Texas is home to over 600,000 Rio Grande turkeys and Ranger Creek Ranch holds an abundance of these animals. In return, we have a high success rate and liberal bag limits with a lengthy spring Wild Turkey Hunting season.
We recommend 10 or 12 gauge shotguns with full chokes and either 4's, 5's or 6 shot. Full camo, facemask, light jacket, binoculars, quiet boots, rain gear, camera, ice chest, several different turkey calls, flashlight, toiletries and hunting license when on Wild Turkey Hunt. Bows equipped with special turkey broadheads are also welcome.
Self Guided Turkey Hunts:
Upon the afternoon of arrival one of our guides will escort you to the area you will be hunting. Hunters are shown the area to hunt within "calling distance" of both roost, strut zone, and feeding areas. 

Turkey Hunts:
2 1/2 Day 2 Bird Limit Rio Grande Turkey Hunt:
including meals and 3 nights lodging {4 person minimum} $775.00 per person unguided 
5 Day Rio Grande Turkey/Wild Boar Hunt:
2 bird limit, unlimited hogs, 6 nights lodging and meals {4 person minimum} $1525.00 per person unguided