Ranger Creek Ranch
Texas Hog Hunt
Hunted All Year!

The Texas sun was just starting to touch the western horizon with a promise of another unbelievable sunset. I have been in my stand for two hours but I haven't seen any wild hogs, but I have been amused by an armadillo, a couple of roadrunners, bluebirds and cardinals. The doves, I think, are trying to get the corn that the corn spinner released an hour ago before the hogs show up.
With the sun setting and the evening air cooling off quickly I take a moment to slip my jacket on, while I am standing up to do this I hear the doves taking off with a sudden flurry of flapping, whistling wings. Anyone who has spent a lot of time outdoors knows to pay attention to all the wildlife around to alert you that there is a reason for their actions.
As I wonder what they have seen and frantically try to get my jacket on the rest of the way , I hope it is hogs, but maybe a hawk, a deer, or a bobcat. As I cautiously sit back down to see what it was that scared the doves I see, almost surreal, a group of wild hogs rapidly approaching the feeder!
They get to the feeder in a short time and become a writhing mass of furry objects, pushing and shoving to get at the corn. Having been in this situation before I knew that sooner or later one would take a breather and separate from the group and offer me a shot. Sure enough a perfect eater size hog has separated and is standing broadside for me!
As my finger starts to squeeze the trigger thoughts race through my mind," be sure, be sure" "this will be good on the BBQ" "I won't be needing my green light tonight"
This is such a typical hog hunting scenario at RCR, every hunt does go a little different, come on in and make your own memories…..
THE HABITAT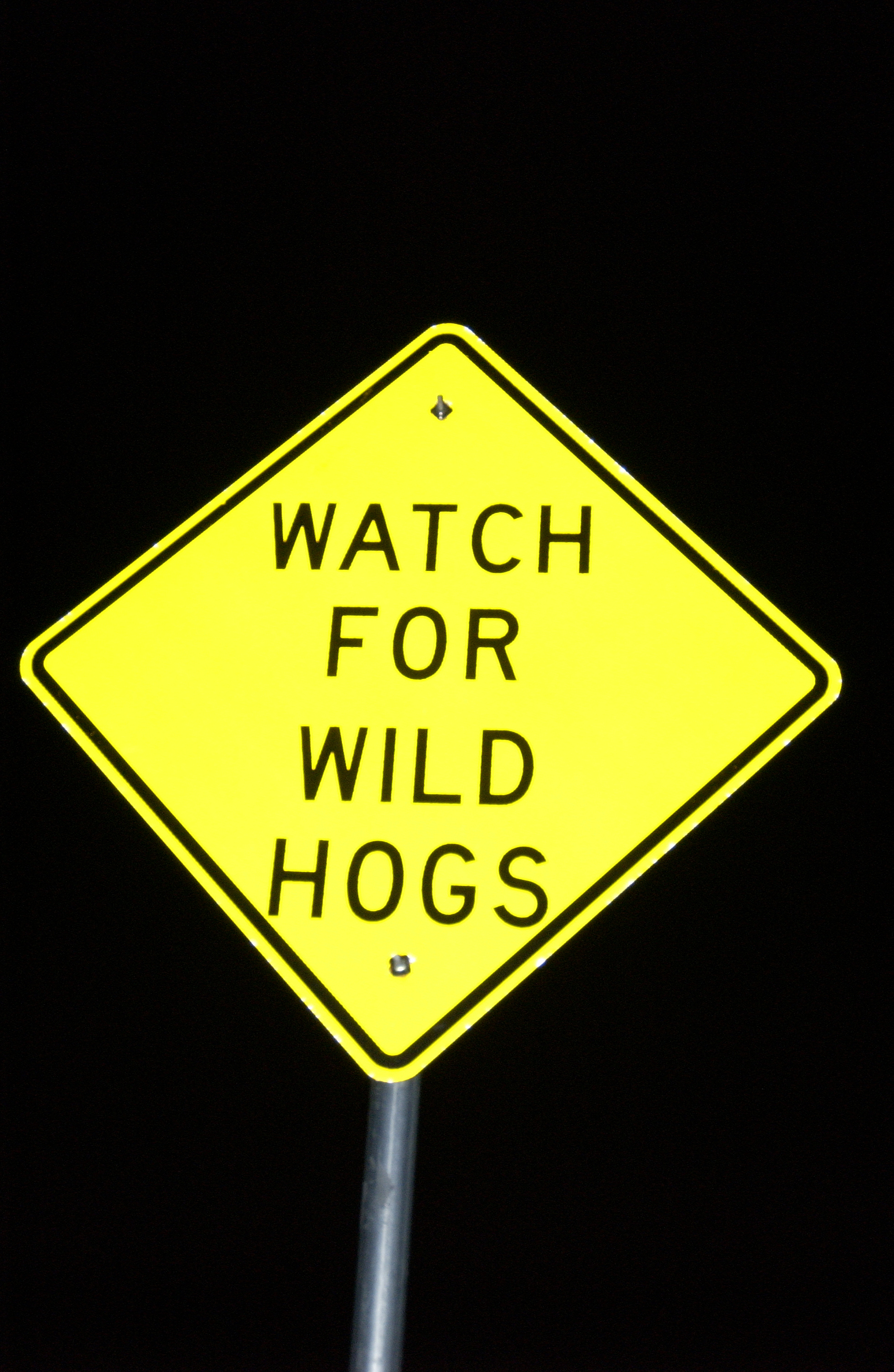 We are the "Heart of Hog country" in North Central Texas. The terrain ranges from dense mesquite pastures to rough cedar break canyons laced with fresh spring-fed creeks to acres and acres of cropland. Most of our property is perched on the rim of the scenic South Wichita River canyons where the abundant wild game has easy access to water, cover and food. Check out Google Earth aerial shot, coordinates: 33deg 38 min N and 99deg 35 min. W to see the terrain.
THE HUNT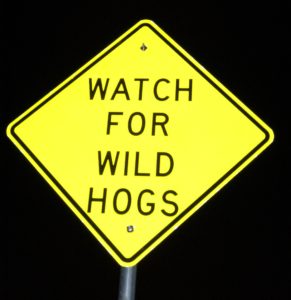 On the Ranch's hog hunting areas we set up strategically placed elevated 4 x 6 blinds, tripods, pop up blinds, corn spinners and bait holes containing sour grain (hog candy) or corn topped off with our famous and success proven hog attractant. Once you arrive at 2:00 pm you will get settled into your accommodations, take care of the necessary paperwork, and go through "Hog Orientation 101" with one of the Ranger Creek Ranch Staff. A guide will have baited selected areas the day prior to your arrival and will take you to these pre baited areas to determine the best places to set up for the evening hunt. Once this site has been determined you will make the final preparations for your exciting hog adventure. At this point, you are basically "on your own" to get back to that area and start your hunt. The next 2 days one of the guide staff will meet with you around 11 am to rebait the sites to see first hand on the hog activity at the hunting sites. A determination will be made at that point on where to set up for the evening hunt. Hogs are naturally nocturnal, so we strategically set up for night hunts with the bait holes set up 35-85 yards for rifle hunters. Although during warm sunny days the hogs take a "siesta", and most of the time after some late night hunting you will want to do the same. We recommend staying on the "hogs schedule" but if you want to stay active you need to arrange for a spot and stalk in another hunting area prior to your arrival.
THE HOG
One of the biggest misconceptions first time Hog Hunters have about hogs is that by their appearance and unclean habitat that they are "dumb". This is far from the truth. A hog's intelligence level is higher than a dog. Their keen sense of smell is greater than a deer along with their keen hearing. The only advantage hunters have is that a hogs eyesight is poor. A hog is a very nomadic type of animal–here today–10 miles away tomorrow not committed to a set daily habit. With all of these traits it makes for one of the most difficult animals to pattern to hunt. Hogs move very fast and can go from 0 to 30-35 mph in matter of seconds. For hunters up to the challenge, who can handle "boar fever", the satisfaction of accomplishment is greatly rewarding. Along with other game animals the females are the best eating, the boars are the best trophies and biggest challenge.
THE EQUIPMENT
Clothing suitable for the weather, camo and scent lock spray
Rain gear
Comfortable hunting boots. Snake boots are always recommended.
Rifle with scope and as far as size….a.223 is alright but we suggest a .243.  We are more concerned about shot placement rather than caliber of your rifle (A large objective scope lens will gather more light)
Scent free soap for showering
Prewash hunting clothes in scent free soap
Light options for night hunting:
1) Thermal Night vision scope or binoculars prove to be the most successful. Ask us about a Thermal Night Vision Scope "hookup". 
                2) Night Vision scope or binoculars are the next best choice
                3) Green LED Scope or side rail mounted light….you can rent these from us for $50 during your hunt.  The green lens seem to offer more clarity.  Please let us know prior to your arrival on                       the  light rental so we may have them fully charged.
               4) Handheld spotlight….offers light but eliminates one person up holding the light
Flashlight
Binoculars
Vehicle that has adequate clearance – -4WD/4 wheelers/UTV's are helpful but not a necessity during most hunts
Game cleaning, skinning and butchering tools (knives)
Trash bags to store the game in freezer
Coolers to keep the meat cool for the trip home.
Camera
Ice is available at the Main Lodge for $2.50 per bag
There is a cleaning station with buckets to dispose the unsalvagable parts and running water
PRICES:
Free Hog Hunt:  Offered during the months of June, July, and August with unlimited hogs. Consists of a no frill/no thrill hunt which means no baiting prior to arrival.  You will need to arrive at 3 pm so that we have time to set you up and show you the property lines.  $195 per person per day includes lodging, breakfast/dinner prepared for you to warm up at your convenience. Minimum of 4 hunters required.
Regular Hog Hunt: A 2 1/2 day semi- guided, unlimited hog hunt, 3 nights lodging including meals is $775.00 per person 4 person minimum. w/o Meals is $700 per person no minimum
"First Timer" Hog Hunts: An all inclusive 2 1/2 day unlimited hog hunt, 3 nights lodging and meals. This package is recommended for those that have not hunted hogs. The guide will give you the Basic " Hog 101″ Class and the necessary information to make sure you have the best opportunity to make a successful harvest. The guide will also teach you how to clean and quarter your first hog. $875 per person w/meals a minimum of 4 and w/o meals is $775 per person 2 person minimum.
Thermal Night Hunts:  $500 per night including a guide plus an additional $125 per set up which includes a thermal to locate, green LED mounted scope light and a head light. July and August Special
               Ranch houses are available for accommodations
Optional Services for Additional Fees:
Non-hunter $150 per day + HOT (Hotel Occupancy Tax)
Cleaning fee: small hogs may be cleaned and quartered for an additional $75 per hog, Large hogs (150+) are cleaned and quartered for $150 each
Daytime "On your Own Spot n Stalk" is an additional $200 per group up to 4 hunters.
Not Included:  Ammunition, hunting gear/apparel, transportation.
Accommodations:  Private Ranch Houses are available and The Main Lodge is only available upon request and subject to change. We will book hog hunters at a Ranch House during our regular hunting season due to the difference in the hunting schedules with other hunters. This makes everyone more compatible during meal time!
QUESTIONS & ANSWERS ABOUT HOG HUNTING AT RANGER CREEK RANCH
Q: How do you normally hunt hogs at Ranger Creek?
A: Weather is an important factor in hog hunting. Most hunting is done late evening, and early morning.  Hogs will move during the daytime as well but are nocturnal by nature.
Q: Can they be hunted during the day?
A: Yes, if there is natural daylight feeding activity. Sometimes hogs will feed during the day when it is overcast and they have a normal feeding cycle during this time. Feeding activity can be tracked by watching game movement charts, and determine from cameras. Also when they are having a tough time finding food they tend to feed longer during daylight hours to get the food they need.  Again, remember hogs are basically nocturnal and 80% of our hogs are killed at night.
Q: What license do I need?
A: If you are only hog hunting a license is no longer required but check with the Texas Parks and Wildlife for updates on requirements.
Q: What clothes do I need?
A: Clothes suitable for warm and very cold weather. The temperature here can drop dramatically in a short time when weather fronts come in so layers of clothing is recommended to regulate your thermostat. Camo and scentloc clothing and scent loc spray, snake boots or chaps are highly recommended.  Hunter Orange is not required.
Q: Do I need a hand held light?
A: Yes, these are very beneficial to get to an from your blind at night or to use as a scanning light while in the blind.  You will need to be able to see at least to 50 yards at night, preferably out to 100 yards is better.
Q: Does Ranger Creek Ranch have scope mounted lights available?
A:  Yes, we rent out Green LED scope or rail mounted lights for you to use for a $50 rental fee during your stay with us.  Most hunters will take advantage of this.  Please let us know at the time of booking your hunt to reserve a light for you.
Q:  Does Ranger Creek Ranch have feeder lights?
A.  Yes, we do have some Green LED motion lights on some of our feeders but not all of them.
Q:  What gun should I use?
A: One you are familiar with. Large caliber, scoped rifles are commonly used. It is really an issue of shot placement, the staff will talk about this when you arrive. If you are from an area where night hunting is not allowed it is highly recommended to practice shooting at night before you arrive.
Q:  What are the guides responsibilities:
A:  On the Regular Hog hunt the staff will bait for you prior to your arrival, meet you on the day of arrival to go over safety and orientation.  They will meet with you around 11 am each day to rebait with you and help determine the best place for the next set up.  This is determined on how the hunt went the day/night before.  They will spend about an hour or two a day with you and may show you more property to make sure you are ready for your next hunt.  On the Free Hog Hunt, someone will show you the property lines the day of arrival.  
Q: How do I get my hog to the cleaning facility?
A:  You may put it in the back of your truck or ATV or use our game carrier that can be place in a receiver hitch.  This will help eliminate a mess in your truck and we offer this game carrier to help our clients.
Q: What vehicle should I bring?
A: It is recommended that your bring a vehicle that you feel comfortable driving the ranch roads.  A vehicle with adequate clearance is important.  We do maintain our ranch roads but they still can be rough.  A 4WD is a bonus but not a necessity. Also you will need to be able to transport your hogs back to our processing facility.
Q: When I shoot a hog what do I do with it?
A:  Do not field dress it……Do not leave……The staff will talk to you about this and show you our processing facility. Hogs are  hauled back to the cleaning facilities where they are field-dressed, skinned and quartered. It is the hunter responsibility to do this. If you choose not to clean the hogs you killed the and you want it cleaned the guide cleaning fee is $75 per hog for small hogs and $150 per hog for (150# +).  You will need a cooler to keep your hog meat in once it is quartered. Also bring a good quality knife for skinning and butchering. We do have some freezer and cooler space available but it works good to keep ice on the meat.
Q: Is ice available to pack down my hogs?
A:  Yes, Ice is available at the Main Lodge for $2.50 per bag.
Q: Is the meat from a Wild Hog good to eat?
A: Yes, the meat from hogs is excellent.  In some areas, it is considered a delicacy. The most common hog, taken for meat, are young ones around 100-150 pounds, The meat from a gilt is considered the best but usually the sows are usually good no matter how big they are.  Meat from bigger boars may not be good to eat, and you can make this determination as soon as you get close to him.  Big Boars are usually taken as a trophy and the meat discarded.  Important Safety Fact:  You must keep the pork cool to keep it safe to eat.  If in question discard it.   We can tell you how to cook the Wild Hog Texas Style…..Wild Hogs are absolutely the Best…..
Q: What is the best strategy to hunt hogs?
A:  We try our best to use our knowlege and other hunters experience to help you harvest a hog and load up your coolers before heading home.  Every week or so hog movement changes.  Several times during the year they will not go to the feeders or bait holes because there's an abundance of feed.  This makes it more difficult so you have to change the way to hunt them during these times.  Game movement charts play a big role here but not completely fool proof.   Hunt as quiet, keep the wind right, scent-free as possible, and keep your equipment in good working order. A good pair of binoculars and scope mounted light/night vision/thermal night vision are recommended for seeing in low-light conditions.  Hog hunting is the ultimate challenge…..and to be successful you cannot make a mistake, but seeing these hogs bustling around adds to the pure joy and excitement of your trip!
Q: Do you allow hunters to spot n stalk?
A: Yes, an unguided spot n stalk can be arranged for an additional $200 for up to 4 hunters. This needs to be arranged prior to arrival while booking your hunt.
Q: Can I bring bait?
A: Not recommended at all. Hogs are very sensitive to new things and it usually takes them a long time to come into something new, if ever. We have had hunters bring their own bait and the results are not good. It sometimes acts more like a hog repellent.
Q: Can hogs be hunted by archery?
A: Yes, we have ground blinds and tripods that can be set up on active spots and tripods stands near corn spinners.
Q: Am I limited to hogs?
A: If you will let us know you are interested in another type of hunt we can make special arrangements for you.  Some may want an opportunity for a doe, or mature whitetail, or an Trophy Aoudad.  Please let us know at time of booking.  You will also need to make sure you have the proper license.
Q: Can I spotlight hogs from my ATV or truck?
A: No, This is not the way we hunt and can actually ruin the hunting for weeks.
Q: What type of blind will I be hunting out of?
A: Normally we hunt hogs from a 4' x 6' elevated box blind large enough for two hunters. The blinds have windows, and 2 chairs.The blinds are positioned in proven hog activity areas near a corn spinner and/or baited hole. When we find hogs frequenting an area where we don't have a box blind we set up a pop-up blind or build a simple blind out of brush. Most of the archery hunting for hogs is also from tripods or pop up blinds.
This question and answer section is meant to prepare our hunters to hunt "Ranger Creek Style". We do have spotlights, scope-mounted lights, and blind heaters that can be rented.
Note: We are a free ranging ranch and do not have animals inside a fenced area so no guarantees are offered.
Hogs may be hunted throughout the year….There is no season for them!
Please contact Ranger Creek Ranch at 940-888-2478 or email ranger@rangercreekranch.com  to book an exciting wild hog hunt.